Theo Triantafyllidis Takes You Inside His Body with Self Portrait (Interior) VR Experience
A creative Los Angeles artist named Theo Triantafyllidis took a whole new meaning to art with Self Portrait (interior). This particular artwork is a  VR experience that takes you on a guided tour through his Theo's body. Yes, we can actually go inside the artist's body and funnel our way through. Self Portrait (interior) showcases some of his inner organs, thoughts, desires, and fears. Users on this journey will face situations where they must make a choice in what path to take and decisions to choose inside Theo Triantafyllidis's body. They have made the experience available on both the Oculus Rift and HTC Vive platforms.
Self Portrait (interior) first starts in this icy desolate area under the sun where you find Triantafyllidis' enourmous head with a tongue sticking out. He has his mouth wide open where we can make our way inside. From there, you funnel your way down his throat and into his bowels to be introduced to the upcoming scenarios.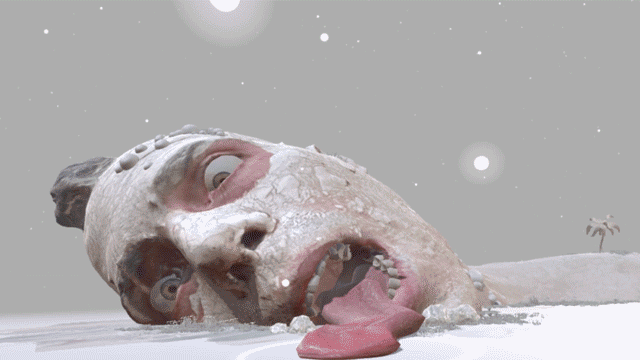 According to Creators Project's interview with Theo Triantafyllidis, Self Project Interior was years in the making where he had to work with game engines, as well as think out how the immersive experience and simulations would work. "I didn't want the piece to be explicitly about that, though, so I tried to make it more open ended," Triantafyllidis explains. "I wanted to expose the audience to visceral feelings, to a raw and powerful experience but also inject some humor and a twist to it. I found that the art historical format of the 'Self Portrait' in combination with the Fantastic Voyage interior would be a good setting to explore these themes in virtual reality."
One of the meanings that Theo Triantafyllidis wanted to portray through Self Portrait (interior) was the illusion of free will. In the VR title, you can "choose-your-own adventure audio narrative whispered into the player's ear as they explore the scene." This particular mode and audio highlights the values or meaninglessness of the choices you make within the VR experience.
Self Portrait (interior) was originally commissioned by DiMoDa, a virtual institution and VR exhibition platform intended to distribute and promote New Media Art. DiMoDa partnered with Morphie Presence to showcase Self Portrait (interior) along with other forms of art by artists named Brenna Murphy, Rosa Menkman, and Miyö Van Stenis. Self Portrait (interior) has been showcased in many exhibits including Superchief Gallery in NY, the Satellite Art Show in Miami and the RISD Museum in Rhode Island. If you aren't the faint of heart, this experience may bring new meaning to VR. You can download the Oculus Rift and HTC Vive version of Self Portrait (interior) today.