RAD TV Is A Chaotic Version Of Mario Party In VR
Lately, developers around the world have been enthralled in making FPS VR games. We've seen countless numbers and variations of them to the point where they almost feel repetitive. But a small independent studio called Ruffian Games looks to shake things up with their new upcoming title called RAD TV.
RAD TV is a "quick fire, hot seat multiplayer VR party game" according to Ruffian Games. You and your friends are transported into a sentient TV full of weird and quirky challenges. Players will be putting their mental and physical strength to the test with 25 unique rapid-fire games.
Challenges vary from hurling old records at zombies to quick-drawing your pistol against cowboys to flying drones through checkpoints. You'll even see a challenge where you have to gulp down some meaty hamburgers.
Ruffian Games wanted to create something unique in the world of VR, which is how they came up with the game. RAD TV changes situations as quickly as surfing TV channels.
The trailer showcases some of the mentioned challenges plus a few more where you'll be swinging a bat, throwing balls into weird blue circles, drinking rapidly, and even playing the drums. The game also appears to be stationary not requiring much movement outside of arms reach.
Features:
– 25 Hugely Varied Games
– 5 Environment Settings
– 1 to 8 Player Hot Seat VR Multiplayer
– Challenge Mode
– 25 sets of Player Customisations to Unlock
– No Online Leaderboards
– Rapid-fire gameplay
– Fun cartoon art style
– Unlockable feet hands/hand feets!
– Fast and fun VR Party action!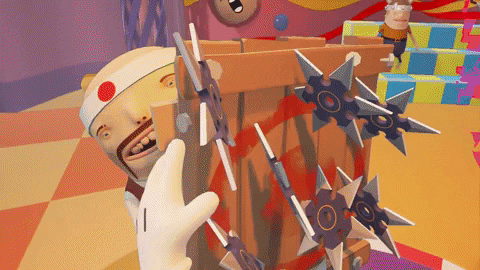 There's currently no word on when RAD TV will be available to the public. They estimate sometime in 2017 but aren't quite sure yet. Ruffian Games have also yet to announce the platforms in which RAD TV will be released. Most likely it will be for the Oculus Rift and HTC Vive. What are your thoughts about the trailer and the RAD TV concept? Make sure to let us know!