NOTE: We're giving away an Oculus Rift at the end of the month! Make sure to check out the details!
The famous Jamie Hyneman form Mythbusters has started a new crowdfund project for what he calls the VorTrex virtual reality shoes. Jamie's goal is to essentially create electric shoes for VR gaming.
On his IndieGoGo campaign, Jamie explains that there were 6 prototype iterations built before launching this campaign. This design will address all of the issues found during prior testing.
Jamie's history with the virtual reality shoes
Jamie first got started testing the virtual reality shoes back in 1987 where he drilled motors on the back of his roller blades. After his initial on and off tests he met up with a designer named Edmond in 2010 who helped create the concept versions. Then in 2013, they added the first sensors which were placed in the shoes. By 2014, they got their IP registered and started to build the 5th and 6th generation of Vortex in 2016. So now, Jamie is unveiling his gen 7 build to the public and wants to share his ideas with the public.
The campaign itself will last about a month and the goal is to reach $50,000. There are several levels for backers starting with $25 which will reward you with a roll of duck tape that's Jamie Hyneman certified. However, the campaign itself will not reward you with the shoes. Rather, you will be helping Jamie build the prototype through this campaign.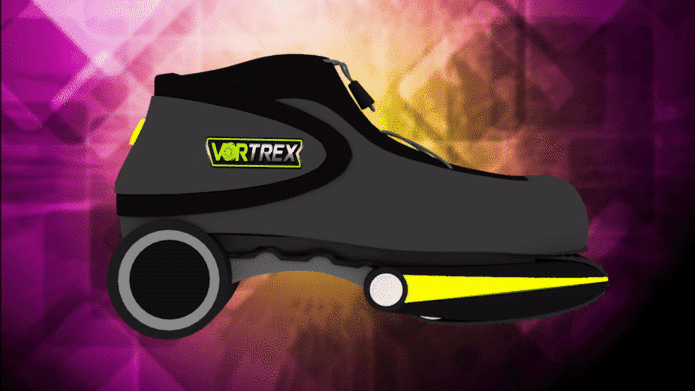 About Vortext
The VorTrex virtual reality shoes is to be finished some time in mid 2018 where they will be launching another crowdfunding campaign to get production going. The shoes is set to be in production by 2019. The VorTrex shoes is intended to be used indoors along with virtual reality experiences. It will help users in three applications: gaming, walking, and exercising. VR gaming is expected to be the least taxing application in terms of the mechanical aspects of the project.
Will you be backing this project?